Discover more from The Seven
A digest sharing a collection of carefully curated stories, recipes, songs, books, films and more, for your mental nourishment.
The Seven's second digest
Digest #2 - June 21st 2020
Digest #2, June 21st 2020

---
One
Maya Angelou is one of the few writers who occupies a special place in both my mind and heart. As a half Black American, half white Australian woman who grew up between Australia and Southeast Asia, my Black identity was always an elusive (often stress-inducing) object of inquiry that I struggled to investigate from afar. One of the first times I connected with, and began to understand the multiple facets of my identity as a Black woman, was when I first read Still I Rise. Now, living in Atlanta as an adult, I've returned to Angelou's writing and found new nuance, but the same warmth and comfort. In particular, I adore and continually re-read her memoir All God's Children Need Traveling Shoes. The book reflects on Angelou's time living as a 'Revolutionist Returnee' in Ghana in the 1960s, and highlights and unpacks many of the tensions and contradictions of being a Black American in 'Africa'. This is an experience I relate to in many ways, as I lived in Malawi for a short time long before I returned to America, the place of my birth. Angelou also gives us an incredibly transparent window into her personal life, as well as an organic exploration of civil rights history. I couldn't recommend a book more.

The cover of Maya Angelou's
All God's Children Need Traveling Shoes
.
---
Two
A lot of people became aware of the magnificently eccentric 1976 documentary Grey Gardens, when Jinx Monsoon played Little Edie on Snatch Game during season five of RuPaul's Drag Race. Occasionally, I find out that someone has never heard of it, and it brings me delight to introduce it to them. I am equally delighted to now tell you, dear reader, about this film on the off-chance you still need to be exposed to it. I find Grey Gardens hard to describe, because the film itself isn't the star here. What viewers remember is the complex, at times toxic, and always spellbinding characters, Edith Bouvier Beale and her daughter also named Edith "Little Edie" Beale (cousins of Jacqueline Kennedy Onassis). They frolick and fight around their decaying and decrepit Hamptons mansion, accented with wild animals and decadent objects. I can't find it anywhere to stream for free, but I believe it's well worth a $3 digital rental fee.

A still from the documentary, with Edith Bouvier Beale (left) and her daughter, Little Edie (right), pictured.
---
Three
My wonderful friend KaM told me to start watching Living Single earlier this week, a 90s sitcom I had never heard of. She then explained to me how Friends and Sex and the City ripped off this show, which debuted in 1993, ahead of them both. I've been watching Living Single for the past few days, and the comparisons are clear. There are six friends, four women and two men, living in a Brooklyn brownstone in apartments on different floors. The format, the character types, and many of the comedic plot lines, were clearly transposed directly to Friends. Similarly, if you zoom in on the dynamic between the four single women in New York, you also see obvious links to the Sex and the City format: a high powered lawyer, a character in publishing, as well as a man-loving woman and her more demure foil. Whitewashing and remaking of black content, without giving credit or royalties, are not new phenomena. Yet, it's still utterly mind-boggling every time you realise a piece of Black history or art was (consciously or unconsciously - it doesn't matter) stolen and repackaged with a white face, only to usurp it entirely in the mainstream pop cultural lexicon. If you're in the US, Living Single is available on Hulu. If you're elsewhere, Google is your friend.

Living Single's first season DVD cover.
---
Four
My current "adult Let it Go", i.e. song I sing and play constantly (term lovingly, and accurately, coined by my husband Alex back when Beyoncé released Lemonade), is Toast by 20-year-old Jamaican reggae artist Koffee. This song is also featured on the playlist I described last week. The music video for the song is gorgeous, in a rare way that feels fresh but entirely authentic. It features lively scenes from the streets of Jamaica that are very welcome during these travel-restricted times. Watching the video helps me feel connected to the rest of the world in a small but joyful way. The song is just generally great as well, so do yourself a favor and go listen (and watch)!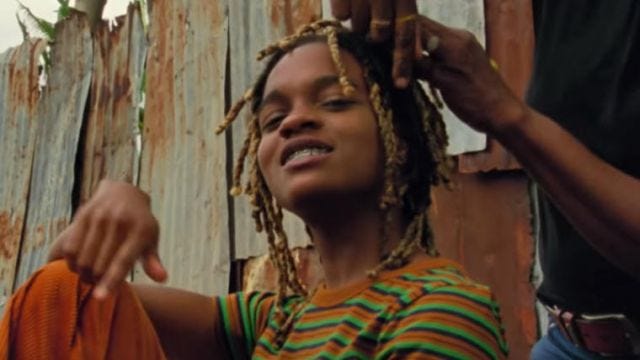 A screenshot from the
Toast
music video.
---
Five
For a few years, I listened to Monocle's radio program The Globalist (via podcast) daily. But when you-know-who was elected, to overcome my existentialism, I consciously retreated from most news media outlets. I still believe his overwhelming (and disproportionate) media coverage is the source of most of his power, and I generally refuse to engage in news that sensationalises him. It's my small form of resistance. I'd rather put that energy elsewhere, and support creators whose content is actually deserving of attention. Very recently, I started to listen to The Globalist again, and I'm glad to have returned. While it is pegged very much as a 'global' news program, and does share major international headlines, it definitely slants more heavily to Western interests. That said, it gives a high quality overview of major current events, and I'm happy to finally feel up to being plugged back in. Programs air every week day morning, anchored from London and Zurich, and last an hour.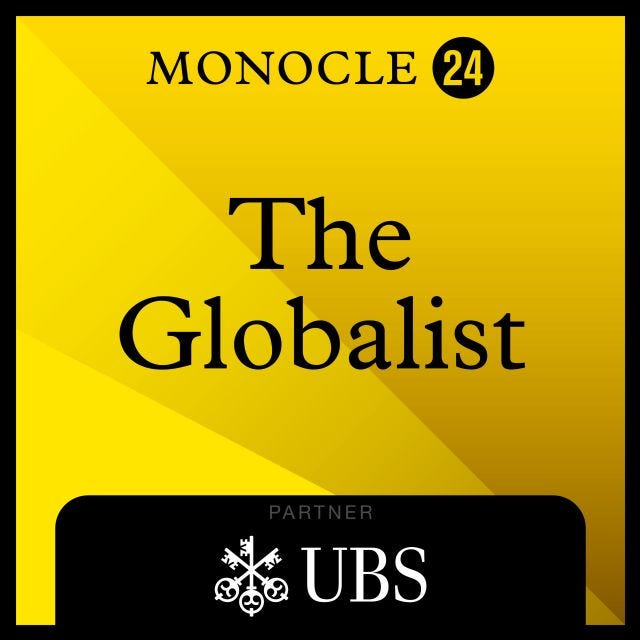 Monocle's
The Globalist
cover art.
---
Six
Do you know what happened to Nicolas Chavez? I hadn't heard about the killing of the mentally ill Chavez in Houston on April 19th, at the hands of police, who fired the final shots into his back while he was already injured and on his knees. Not until I read about it in The Marshall Project's Opening Statement newsletter. They have brought to light a large number of important stories that have somehow otherwise escaped public attention. I first became aware of The Marshall Project when I read their brilliant and harrowing piece "An Unbelievable Story of Rape", which went on to become an acclaimed Netflix series. They're a nonpartisan, nonprofit news organization that seeks to create and sustain a sense of national urgency about the U.S. criminal justice system. If you're in the US and interested in criminal justice, which I do hope you are, I strongly suggest subscribing to at least one of their newsletters and supporting their work. You can find out more about The Marshall Project, and donate, on their website.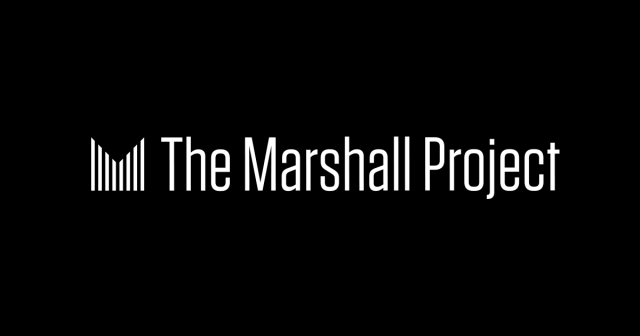 The Marshall Project logo.
---
Seven
I want to leave you on a sweet note. This is my favorite desert to make, which I am missing very, very much as I can't currently eat dairy (I'm nursing my son who has a cow's milk protein allergy). They say absence makes the heart grow fonder, which might be why I actually had a dream about this pudding last night. That, or I have a problem. Nigella Lawson's sticky toffee pudding from her cookbook At My Table, is indulgent, wildly delicious, and very hard to mess up. Less than 30 minutes of prep, and you can make a huge pan (or two) of it and feed a small crowd.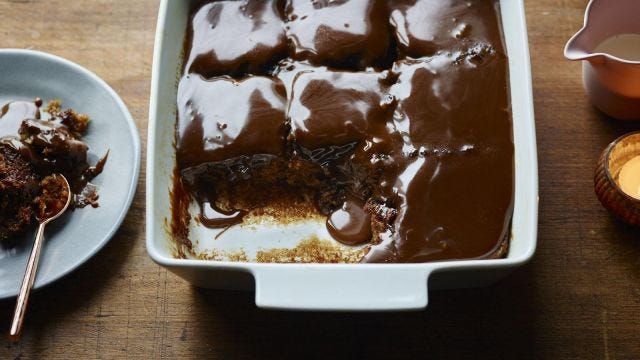 Photo of the dish, from
the BBC
.
---
The Seven is a weekly digest sharing a collection of seven carefully curated stories, articles, images, movies, books, songs and other content. Thoughtfully contextualised and passed along with consideration, for your mental nourishment.
---


Did someone forward you The Seven?
Sign up.
---
I'd like to take a moment to thank my dear friend Katie McAllister, who suggested I create a
Patreon account
, and subsequently became my first patron. I'd also like to thank my best friend Sarah Almahmoud, who became my second patron. As well as
The Seven
, I am working on
Good Storytelling
, a podcast about how to tell ethical stories that inspire action.
To keep The Seven and Good Storytelling entirely free of advertising (or any other form of paid promotion) both now and in the future, donations are welcome. These will support the time and energy spent researching, editing and sharing both of these projects. Both forms of content will always remain free to all, and
contributions from supporters are welcomed and voluntary
.
---