Discover more from The Seven
A digest sharing a collection of carefully curated stories, recipes, songs, books, films and more, for your mental nourishment.
First book giveaway
Book giveaway! Enter to win. 

---

Dear friends,

In yesterday's edition of The Seven, digest #3, I included a link to Zadie Smith's "Generation Why?" essay on The New York Review of Books website, noting that it was free. It turns out it is not free; though the opening paragraphs are provided as a preview, it sits behind a paywall.

For those who have just signed up and didn't receive yesterday's digest, I'm referring to a book of essays by Smith called Feel Free. I believe the entire book is important, and each essay is worth reading, so I've decided to run a giveaway. I will be sending one subscriber a copy of the book, posted to you for free (via Book Depository), wherever in the world you are.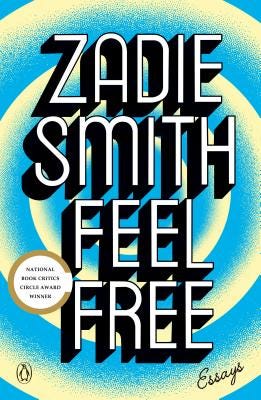 Existing subscribers: Please visit the contest page to enter. I will not automatically enter you, so please register your interest there. You of course don't need to sign up to The Seven a second time!

New subscribers: If you have been forwarded this message, you will need to sign up to The Seven, and also complete the contest form.

I will cross-reference the subscriber database with the contest entrants (it isn't automatic) so if you haven't subscribed to the Seven and entered with the same email address on the contest page, you won't be eligible to win.

The winner will be chosen at random on Saturday night (GMT-4), and announced in this coming Sunday's digest of The Seven. I will then contact the winner to get their preferred shipping address and send the book!

Sending warmth from Atlanta to wherever you are,

Keeya


---


The Seven
is a weekly digest sharing a collection of seven carefully curated stories, recipes, images, movies, essays, books, songs and other content. Thoughtfully contextualised and passed along with consideration, for your mental nourishment.
---
I'd like to take a moment to thank my dear friend Katie McAllister, who suggested I create a
Patreon account
, and subsequently became my first patron. I'd also like to thank my best friend Sarah Almahmoud, who became my second patron. As well as
The Seven
, I am working on
Good Storytelling
, a podcast about how to tell ethical stories that inspire action.
To keep The Seven and Good Storytelling entirely free of advertising (or any other form of paid promotion) both now and in the future, donations are welcome. These will support the time and energy spent researching, editing and sharing both of these projects. Both forms of content will always remain free to all, and
contributions from supporters are welcomed and voluntary
.
---